UPDATE FROM BOSTON
The last year has been intense - with a lot of changes, new ways and possibilities that opened. Here's a short overview of some of my personal favourites that were going on... Enjoy!
03/09/2018: Eyal Gurvich Recital at Berklee
Eyal Gurvich is a drummer from Israel - on of the most talented ones at Berklee, I had the pleasure to support him on his last recital. Here's a short video of one of his originals:
03/08/2018: Kurt Elling meets Berklee
This was an amazing concert I had the honour to be part of - although there is no official video of the Performance, I want to share two videos of Kurt Elling with you that I like a lot, on of them with an small Ensembleand one of them with Bigband, an Arrangement that we played with him:
12/30/2017: Alan Hsiao and the Sham Bigband Recording 
This is Alan's Original tune "I hardly know you"!
11/02/2017: Tonhino Horta at BPC
I want to share some music recommendations with you - such an unbelievable musician:
10/19/2017: Michael Gibbs, Gary Burton, Bill Frisell and Jim Odgren with the Berklee Concert jazz Orchestra conducted by Greg Hopkins (Press Review by the Boston Globe can be found HERE)
Wally's Jamsession
I want to share the information that there is a Jazz Jamsession at Wally's Jazzclub Boston every day between 5pm-9pm. I'll be there a lot of times, come hang! Heres a short clip how it looks like:
VIDEO: THE JAZZTRAIN
Hey Folks! I want to introduce a Band from Mongolia, I worked with them in October 2016 and January 2017: The Jazztrain! We produced a record under the patronage of Martin Zenker and the Goethe-Institut Germany/Mongolia - Here is the result: 
There is a Jazzscene in Mongolia and there are some amazing talents out there! The singer Enjie recorded with the legendary Jazzdrummer Billy Hart and the drummer Huslen is 16 (!) years old. The trumpeter Hongor was my trumpet student in Mongolia and belongs together with saxophonist Muhntemuulen to the best Jazzplayers there. Shuteen is studying music at the Goethe Musiklabor Ulan Bator like all members of the band, the bassist Tovcho takes continuing lessons with Martin Zenker. Great musicians from all over the world (for example: Jesse Davis, Kenny Washington, Champlain Fulton, Steve Pruitt, Mario Gonzi, Sven Ole Carstens, Claus Raible, Rick Holländer) are invited to teach at the Goethe Musiklabor Ulan Bator on a regular basis and do workshops and concerts around the city. They help young Mongolian Jazzmusicians to develop their own language and to manifest Jazz in Mongolia through their work. Being part of this community was a very beautiful experience, it is so motivating to see that there are highly motivated young musicians that pass on the Lifestyle and the messages of Jazz, even in countries that one would not initially link to Jazz. 
Spread the word!!
#Jazzmessengers
CONCERT: UGETSU ZEBRA
February 15, 2017
8.30pm - Jazzclub Unterfahrt Munich
CONCERT:  Paulo Cardoso & Band
 January 29, 2017
8.30 pm - Night Club Bayerischer Hof Munich
CONCERT:  Christos Asonitis Quintett
January 27, 2017
7.30 pm - Ars musica
Plinganserstraße 6 81369 Sendling
CONCERT:  Jazztrumpet class of Professor Claus Reichstaller
January 11, 2017
12.00 am - Gasteig: Kleiner Konzertsaal
CONCERT:  Far Rockaway
January 5, 2017
8.30 pm - Plattling / Bürgerspital
January 7, 2017
7.30 pm - Munich / Studio 76
Ismaningerstraße 76 81675 München
January 8, 2017
8.30 pm - The Raven Straubing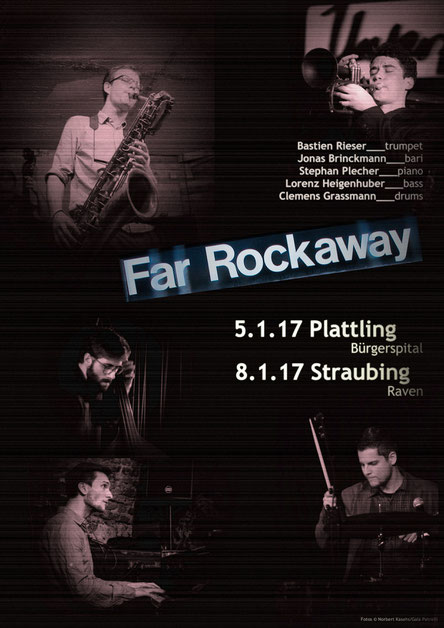 CONCERT:  Christian Elsässer Jazz Orchestra
Oktober 03, 2016
Munich / Jazzclub Unterfahrt
October 01, 2016
Vilshofen / "Herbstlaub"
Exhibition: Kalonoma at Kösk Munich 09.22.16 – 09.25.16
More Infos here!
SESSION: Jazzclub Unterfahrt Sessions August 2016
08.07.16 
drums: Guido May
bass: Sebastian Gieck
piano: Christian Elsässer
trumpet: Bastien Rieser
08.14.16
drums: Guido May
bass: Sebastian Gieck
piano: Christian Elsässer
trumpet: Bastien Rieser
08.21.16
drums: Xaver Hellmeier
bass: Ludwig Glöckner
piano: Tizian Jost
sax: Michael Binder
trumpet: Bastien Rieser
08.28.16
drums: Matthias Gmelin
bass: Ludwig Glöckner
piano: Julian Schmidt
baritone: Jonas Brinkmann
trumpet: Bastien Rieser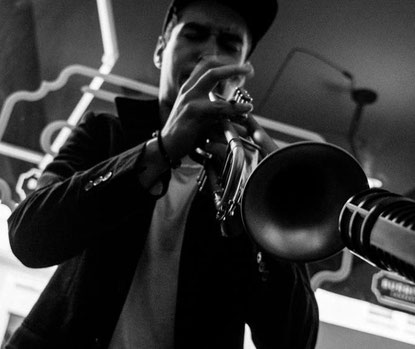 CONCERT: The Baze-R Quintett
11.15.2015, 9 pm ; Night Club Bayerischer Hof 
(Update!)
Pictures are here!           
A Cooperation with the University of music and  performing arts Munich.